---
100cm2 Sample cutter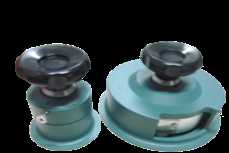 Introduction
Using the foreign advanced technology, 100cm2 sample cutter is elaborately designed.
Sharp cutters moving along a circular path use a drawing action to cut accurate circular samples with smooth edges. The cut is made on a base of porous rubber. The cutters can cut into this base with complete safety.
The cutter is a circular cutter for cutting out 100cm2 samples.

Application
The application of sharp cutter wide. Even difficult materials such as fine knits, non-wovens, carpeting, synthetic leather, fleecy or velvet-like materials, thin films, tissue paper, corrugated cardboard, etc. can be cut without effort.

Features
(1) Beautiful appearance, small size, easy to carry.
(2) Aluminum alloy material, adjustable thickness, the blade is not easily damaged because of the protective pad.
(3) Equipped with a cutting pad and 4 spare blades.
(4) Quick cutting speed and high precision with the smooth cutting the edge.
(5) Reasonable design. The cutters can cut into the base with complete safety.

Technical Parameters
| | |
| --- | --- |
| Items | Parameters |
| Sample area | 100cm2 |
| Max thickness of sheet | 5.0cm |
| Dimension | 160L×160W×110H (mm) |
| Weight | 2.0kg |
Notice:
(1) It is unadvisable to make your hands on the bottom in order to avoid the sharp blade wound you.
(2) The sample cutter should be taken on the rubber pad and put it in the instrument box after wiping when you're done.


Note:QINSUN always been committed to innovation and improve product performance and functionality, based on the reasons, the product specifications will be changed accordingly. The above without prior notice, the Company reserves the right to amend the final.