---
Digital Auto Burst Strength Tester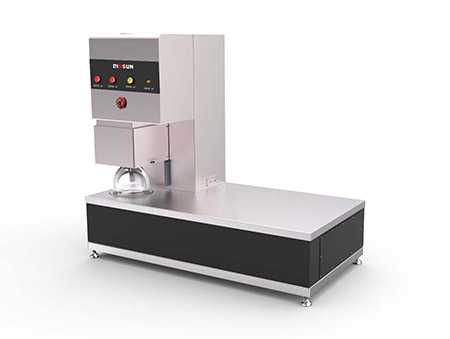 Digital Auto Burst Strength Tester

Standards:
ASTM D3786, ERT 80-4-20, GB/T 7742.1, BS EN ISO 13938-1, BS 3424-6-B, ISO 3303-B, ISO 2758, ISO 3303.2, ISO 3689, JIS L1018/L1093, IWS TM170

Applications:
Digital Auto Burst Strength Tester is used to determine the bursting strength and distension at burst of woven, knitted and non woven fabrics, papers and boards by the application of hydraulic loading under a rubber diaphragm.
The intelligent control algorithm gives accurate control of the burst time. Manual or automatic mode. Windows based software could analyze the test results and print, easy to operate. Different test areas can be accommodated allowing testing to corresponding standards.

Product Information:
Features:
A. Several different specimen sizes can be accommodated allowing testing to most corresponding standards, test areas up to 100cm can be accommodated for GB;
B. Pneumatic clamping, firm and uniform of grip, can be used for various materials;
C. PC online communication, statistical analysis, with test reports printed;
D. Output multiple indexes: bursting pressure, bursting strength, diaphragm pressure, distension height, burst time; convenient to master the sample property for quality control personnel.

Technical Parameters:
A. Measuring range: 1%~100%, max to 6.000MPa, minimum value of 0.002MPa;
B. Diaphragm dimension: outside diameter of Φ80mm, thickness of 0.9±0.1mm;
C. Clamping device: Φ112.8mm±0.2mm(100cm), Φ79.8±0.2mm(50cm), Φ35.7±0.2mm(10cm), Φ31.5±0.2mm(7.5cm), Φ30.5±0.2mm(7.3cm), Φ30±0.2mm;
D. Max distension height up to: 70±0.02mm;
E Max bursting time up to: 99.9±0.1s;
F. Rate of increase in volume: 100-500ml/min, manual or automatic adjustment;
G. Output mode: display and print for output, real-time graphic, online communication;
H. Operating mode: manual or automatic;
I. Hydraulic oil: glycerin of 85%, distilled water of 15%;
J. Power supply: AC220V 50Hz 2000W;
K. Dimensions: 750×500×950mm(L×W×H);

Instrument Configurations:
2. Processor with LCD monitor, keyboard and mouse included;
4. Test kit (with 5 sets, 112.8 mm glass is in option);
6. Test elastic diaphragms: 2 pieces;
7. Silent Laboratory Compressor (optional).
Note:QINSUN always been committed to innovation and improve product performance and functionality, based on the reasons, the product specifications will be changed accordingly. The above without prior notice, the Company reserves the right to amend the final.