---
fingertip hand abrasion tester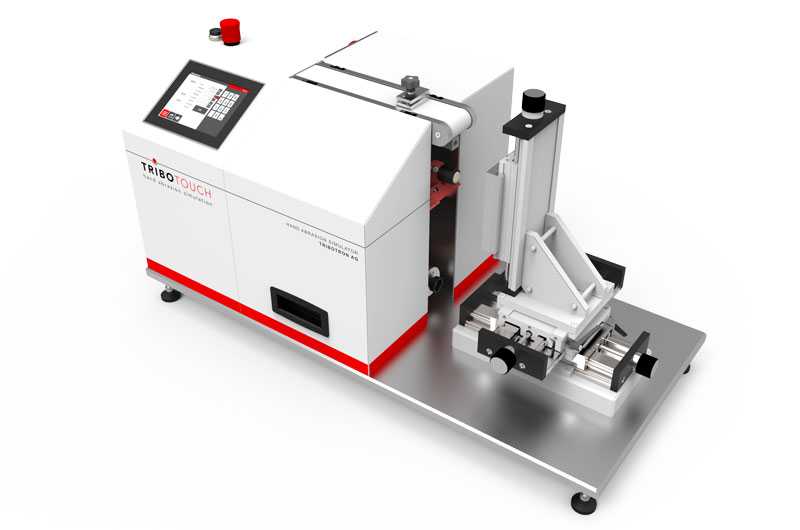 Functionality of a product is considered as a matter of course, so the perception of quality is determined
primarily by the visual appearance. Damage to a surface by the human hand is one of the main reason for disturbance of the products quality perception.
The hand abrasion is a very complex chemical and mechanical combination. By touching a surface the human hand performs a mechanical strike followed by a push-slide force. The human hand consists of a visco elastic material containing a rough
and structured surface. In addition, sweat or hand cream creates a severe chemical environment.
Hand Abrasion Tester / soft-chemo-mechanical fingertip & hand abrasion tester is designed to do
real life testing of finished products or lab samples in regards of resistance to hand abrasion. The
set-up of it is exactly reproducing the complex chemo mechanical system of the human hand abrasion according to international standards.
The flexible design of the tester allows various options and delivers reproducible results.

Specifications:
International Norm: EC 68-2-70
European Norm: EN 60068-2-70
German Norm: DIN 60068-2-70
Abrasion of markings and letterings caused by
rubbing of fingers and hands.

Technical data
Normal load: 1, 5, 10 N (20N optional)
Number of cycles: 1 -100 million
Power supply: 110 V / 230V
Simulation of human skin acc.
Simulation of soiling of materials.
Cotton soiled with carbon back/oil (IEC).
Simulation of rub resistance of leather.
Simulation of high-abrasive mechanical wear.
Abrastion Pad 'Scotch test
Simulation of abrasion with 'scotch' pads.
Artificial Sweat according to ISO 105 E04
Hand cream and Sun lotion according to customer specification.
- Coating of door handles
Note:QINSUN always been committed to innovation and improve product performance and functionality, based on the reasons, the product specifications will be changed accordingly. The above without prior notice, the Company reserves the right to amend the final.