---
Seat Static Load Test Bench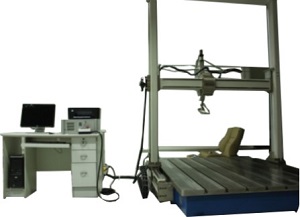 Seat Static Load Test Bench is mainly used for testing the comfort of seat and various static loading test of the seat. The main execution standard is QC/t740-2005.
Structure
The instrument mainly consists of host framework, bottom platform (with vertical and horizontal T slot), ball screw, high precision load sensor, displacement sensor, the X direction and Y direction stroke control motor, Panasonic servo motor and decelerator, applying force direction adjusting device and so on.
Features
· The full range of the load is not graded.
· The test data is stored in database. After the test, the test data can be analyzed, such as curve superposition, automatic scaling and data display of various data points.
· The curves of the two tests are superimposed on the same coordinate.
· Loading angel can be adjusted.
· The software interface uses the virtual instrument technology in the Windows environment, and the experimental curve is displayed by analog oscilloscope.
· Data results can be printed and converted into Excel format for comprehensive analysis of various test data.
· The load and displacement calibration method is simple and easy to operate.
· Analysis software can be installed on multiple computers to analyze test data and prepare reports.
· The control system adopts the design of the template and the maintenance is convenient.
· It has limit protection, overload protection, software setting and safety protection.
Control System
The measurement control system adopts bus templating design. Each template realizes templating and standardization design of functional units; High measurement accuracy, flexible configuration, strong interchangeability, easy to after-sales service etc.
Servo control adopts digital PID servo control technology, with two closed-loop control modes of displacement and load, which can be undisturbedly switched.
Control system (including the display and printer) consists of standard computer, industrial control box, master control template, load amplification template , D/A conversion template, displacement counting template, A/D conversion tempelate, I/O templates, etc.
Technical Parameters
| | |
| --- | --- |
| Items | Parameters |
| Maximum load | 10kN |
| Load measurement accuracy | ±1% |
| Load indicating value resolution | 0.05N |
| Displacement velocity range | 0.1-300mm/min |
| Displacement velocity accuracy | ±1.0% of the indication value |
| Load displacement measurement accuracy | ±0.5%·FS |
| Load displacement measurement resolution | 0.0002mm |
| X-direction adjusting stoke | 1000mm |
| Y-direction adjusting stoke | 1500mm |
| Z-direction beam stroke | 1400mm |
| Electric cylinder stroke | 400mm |
| Electric cylinder rotation Angle | ±90° |
| Power | AC 220V 50Hz 3kw |
Note:QINSUN always been committed to innovation and improve product performance and functionality, based on the reasons, the product specifications will be changed accordingly. The above without prior notice, the Company reserves the right to amend the final.