---
Oil Thread Leak Test System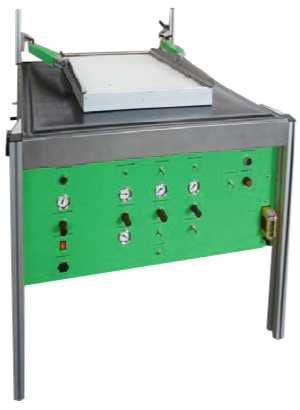 The oil thread test is used for visual proof of the absence of leakage of HEPA filters. This simple quality test procedure may be an alternative to the scan method. The oil thread test is also applicable if the scan method is not fully applicable because of the filter design (e.g. V-shaped arrangements). For scanning of HEPA and ULPA filters, Topas offers the AFS 150 and AFS 152 - proven and reliable solutions.
Principle
The filter element (sample) is mounted horizontally with the upstream side down on the test bench and secured with a pneumatically operated fixing device. For testing, the filter is then exposed to a flow of a polydisperse aerosol of oil droplets (DEHS). An existing leak is made visible on a rising oil thread on the downstream side (upper side) of the filter.
Features
◆ Cost-effective solution for leak testing of filters ranging up to group H (filter class H13 and H14)
◆ Easy manual operation
◆ Constant test conditions according to EN 1822-4 due to pre-adjustable test parameters
◆ Effective testing of larger numbers with preadjusted test parameters
◆ Flexible and easily configurable filter holder in case of different filter dimension
Applications
Quality control and assurance in filter production based on the filter oil thread test according to EN1822-4, Appendix A
Technical Parameters
| | |
| --- | --- |
| Items | Parameters |
| Filter dimensions (W x H x D) | Min. 305 x 305 x 30 mm max. 915 x 800 x 300 mm |
| Aerosol volume flow | 50 ... 600 l/min |
| Face velocity | ca.1.3 cm/s |
| Aerosol concentration | 1.5 g/m³ |
| Aerosol substance | DEHS |
| Compressed air supply | 6 bar |
| Power supply | 230 V AC; 1 A; 50 Hz |
| Dimensions (L x W x H) | 91 x 120 x 61 cm |
| Required work space (L x W x H) | Approx. 100 x 120 x 150 cm |
Note:QINSUN always been committed to innovation and improve product performance and functionality, based on the reasons, the product specifications will be changed accordingly. The above without prior notice, the Company reserves the right to amend the final.