---
Hexapod Tumbler test instrument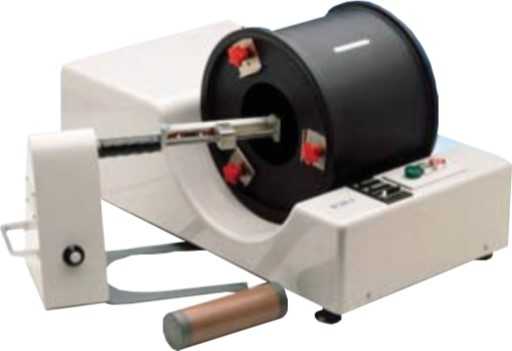 Introduction
Hexapod tumbler tester, also known as carpet appearance assessment tester, is designed to determine the appearance maintenance ability of carpet. The tester is equipped with a cylinder and an improved hexapod drum cover. The tumbler is mounted on the free floor standing device, vibrated by electricity. Ribbed rolling device mounted in the center is driven by variable speed motor to spray soil. The hopper and rolling device is mounted inside of the hexapod drum. The soil is directly sprayed on the carpet specimen installed inside of the drum via the hopper. The cylinder, 2.3kg, 205mm length x 63mm width, runs freely on the carpet specimen inside the drum. The improved hexapod drum cover makes it possible that the device can be used together with the existing hexapod device.

Working principle
· Use double sided tape to stick the carpet specimen on the elastic lining, and then fix them inside of the tumbler, which can be retrieved anytime. If in need, add bottom lining under the carpet.
· Tumbler adopts a reciprocating motion mechanism, in order to provide more real pile condition. The required number of revolution can be set in advance by a rotating counter. The 3.8 Kg tumbler has six polyurethane footholds (if there is damage to the six footholds, serious wear or service for two years, make replacement).
· 2000 revolutions of the specimen takes about an hour. Take out the carpet for cleaning by vacuum cleaner as that in actual scenario. Change a new specimen for repetitive test, usually 6 tests and in total of 12000 revolutions.

Features
· Built-in cylinder
· Improved hexapod drum cover
· Good stability
· Quick test.
Technical Parameter
Dimension: 430×780 ×400 mm(W×D×H)
Power: 375 W

Consumables


H polyurethane feet
Cylinder liner
Appearance change evaluation:
ISO 9405:2001 specifies the following two evaluation methods:
| | |
| --- | --- |
| Method A | Method B |
| Illuminationg device with rotary inspection table | Assessment fcial mask |
| Large grey card | Illuminationg device |
| Digital image reference sample card | Digital image reference sample card |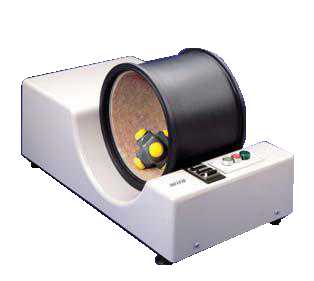 Note:QINSUN always been committed to innovation and improve product performance and functionality, based on the reasons, the product specifications will be changed accordingly. The above without prior notice, the Company reserves the right to amend the final.