---
Radiant Protective Performance Test Device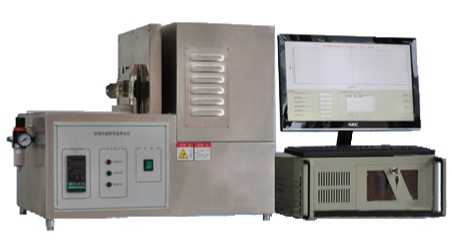 Standardized sample clamping program, strictly meet the standards. While taking into account the operation, is simple and generous. The calorimeter has a long service life and stable performance.
Radiant protective performance is an important performance index of flame retardant products, accurate determinate its protective properties, for the selection of materials, research and development of new products, improve the processing technology has important guiding significance.
Fabric radiant protective performance tester is used to determinate the heat radiation performance for fabric single or multi-layer in high temperature environment, widely used and protective clothing in the field of quality inspection work, such as factory protective clothing, fire protective clothing, biochemical protective clothing and so on. In addition, it can also be used to measure the thermal performance of other fire-retardant sheet.
ISO 6942-2002 Protective clothing - Protection against heat and fire - Method of test: Evaluation of materials and material assemblies when exposed to a source of radiant heat
Simplified operation interface, dignified and generous. Easy to operate to reduce the possibility of misuse.
Intelligent design, using the host computer for data collection, analysis, and analysis of the results to facilitate the data summary and processing. Programmable scientific are reasonable, easy to master, low configuration requirements.
According to standard ISO 6942-2002 (EN366), the protective of the material can be tested according to two test methods. The first method (method A) is that the sample undergoes a certain amount of heat radiation, in order to reproduce the harsh conditions of the material, and record the appearance changes. The second method (method B) is to place the calorimeter on the back of the sample. The heat is transferred from the back of the sample and the temperature is recorded over time, to determine the level of heat radiation transfer.
Feature
| | |
| --- | --- |
| Infrared quartz tube | 5 tubes |
| The silicon carbide rod heating power | 6.5kW / 220V / 50Hz |
| Silicon rod heating length | 178mm, diameter 8mm |
| Heat source heat flux density | 10kW / m2 ~ 80 kW / m2 adjustable |
| Heat radiation source temperature control | room temperature ~ 1200oC± 5oC(accuracy of 1oC) |
| Heat radiation source temperature sensor | thermocouple (0 ~ 1600oC) |
| The thermal radiation source temperature thermostat | with a PID intelligent adjustment controller |
| Calorimeter heat capacity | about 480.937 J / K, heating area of 50 × 50mm2 |
| Circulating water pump | HQB-3900 / 100W / 220V / 50Hz |
| Air supply | mini air compressor, power 1 / 4HP 220V / 50Hz |
| Dimensions | 1510mm × 650mm × 1220mm |
| Weight | 200kg |
| Test environment | between 15oC~ 35oC, the room should be no air circulation |
Note:
QINSUN is very in place for textile testing and quality control,we have our own textile testing lab. Our
textile testing equipment
and testing methods are in the leading position in the industry. We have passed the textile testing certification and iso textile testing standards issued by a number of testing,We can provide
textile testing equipment pdf manual
. Sufficient inventory, big discounts, limited time promotion, Order now!