---
45 Degree Automatic Flammability Tester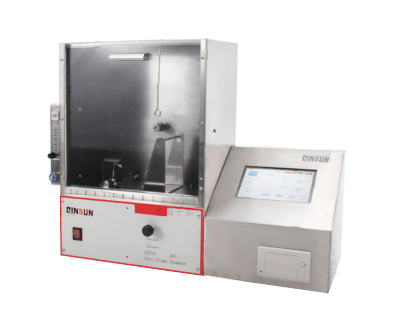 45 Degree Automatic Flammability Tester test instrument is used to detect the flame resistance of the blanket fabric and the flame spread performance of the fabric surface.including bed sheets, blankets, mattresses, pillows, duck down quilts and plush fabric products used to cover the bed.
Test principle:
Within a specified time, the surface of the test sample is burned with a standardized flame, so that the burning, damage degree or discoloration of the standard test paper can be observed, and then the test fabric can be graded and evaluated.
Body stainless steel structure:
SCM control, control interface friendly, easy to operate
Heavy hammer timing stop device, timing accurate
Standard fire mouth
Accessories and Consumables:
Combustion gas supply Device
50 mercerized cotton sewing machine line

Features:
Stainless steel case with transparent viewing window
18 Needle flame, flame length adjustable
Ignition time can be set freely
Automatic timing of flame spread in 0.1 second increments.
Automatic or manual flame impingement for 1,5 or 20 seconds.
Provide bristles and sample clamps
Provide standard stainless steel sample holder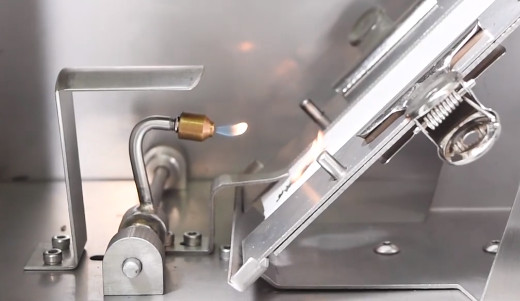 Technical Parameters:
▶ Flowmeter : Adjust the gas flow size;
▶ Fire tube : The gas is first connected to the flow meter through the hose, and then through the rear hose of the box into the flame pipe;
▶ Windscreen: the upper part of the windshield is provided with glass;
The experiment was carried out in a ventilated kitchen. The round hole on the top of the box and the gap on the windshield make the gas convection.
▶ Control panel : Power- power switch ;Start:Start internal motor operation. When the flame tube moves to the test position (the vertical distance from the sample center is 8mm, the horizontal distance is 3.2mm), the internal timing switch is touched;
▶ Reset : Timer reset /Fire tube reset;
▶ Sample clamp and specimen holder : The sample frame substrate is provided with a knob which can adjust the left and right movement, and the sample frame substrate is moved and fixed by loosening and tightening the knob;
▶ Timer :Display settings and actual ignition time.After the time is cleared, the fire tube can complete the required movement. Or the fire tube can not return to the original position after moving forward;
▶ Test room size: W368 × D216 × H356mm
▶ Sample shelf angle: 45 °
▶ Flame spread time setting range: 0.01S-99.99S
▶ ignition time of the sample surface : 1.0S ± 0.05S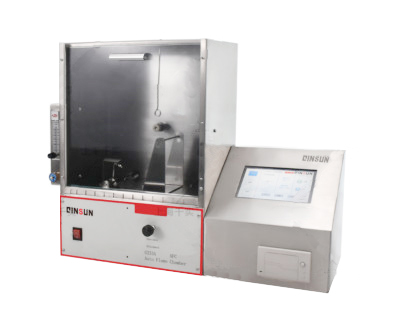 Note:
QINSUN is very in place for textile testing and quality control,we have our own textile testing lab. Our
textile testing equipment
and testing methods are in the leading position in the industry. We have passed the textile testing certification and iso textile testing standards issued by a number of testing,We can provide
textile testing equipment pdf manual
. Sufficient inventory, big discounts, limited time promotion, Order now!