---
Pneumatic Bursting Strength Tester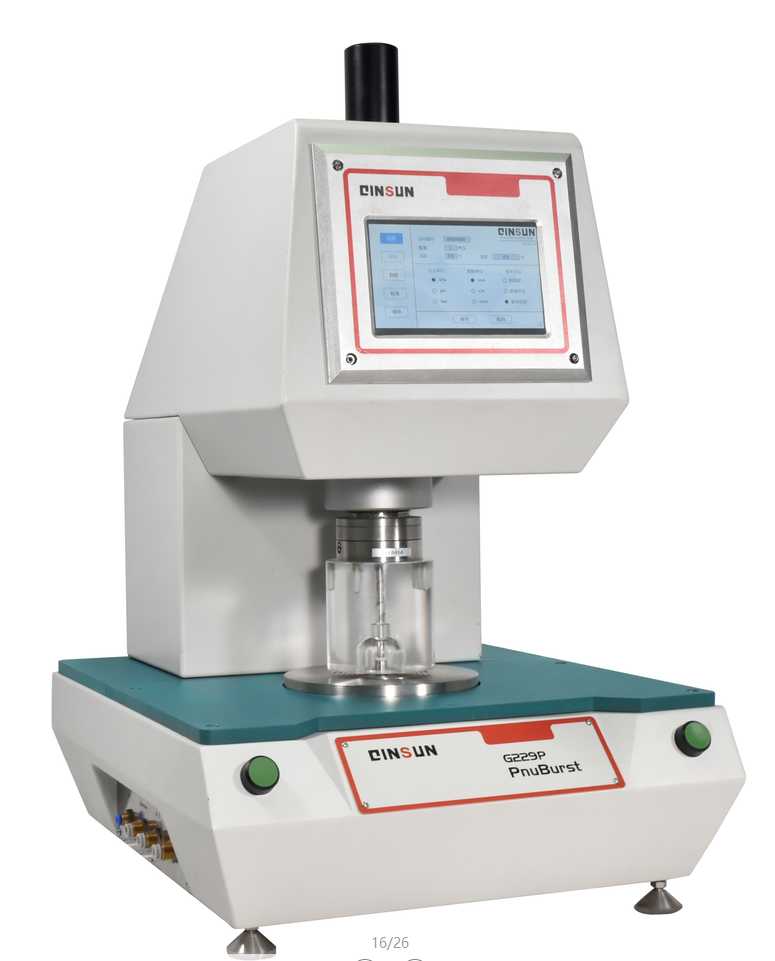 The new G229P pneumatic bursting strength tester adopts pneumatic drum explosion principle. It can quickly and accurately test the fracture strength, bursting height, bursting strength and other physical property parameters when the test material is uniformly stressed on the larger test area. It can be able to evaluate the re-sistance of materials.
Pneumatic bursting strength tester
is widely used in textile , leather , paper and other fields. The bursting strength and height of woven, knitted, non-woven fabric, paper or board are measured by air pressure drum. It is the basic equipment for testing physical strength and strength of materials.
Easy to use, high degree of automation G229P pneumatic expansion tester through intelligent control algorithm to accurately control the burst time, with manual and automatic two control methods; It is equipped with touch screen control software, simple operation. The test results can be stored, analyzed and printed; The range of instrument pressure is large, which is suitable for various materials to meet the requirements of bursting strength test.

Standard
ASTM D3786 Standard Test Method for Bursting Strength of Textile Fabrics—Diaphragm Bursting Strength Tester Method ISO 13938-2 Textiles-Bursting properties of fabrics-Part 2:Pneumatic method for deter-mination of bursting strength and bursting distension. IWS TM 29 International Wool Board Standard
EDANA 80.4.2002 Recommended test method - nonwovens burst
NEXT 22 Determines the bursting properties of the fabric
ERT 80-4-20,
GB/T 7742.1,
BS EN ISO 13938-1,
BS 3424-6-B,
ISO 3303-B,
ISO 2758,
ISO 3303.2,
ISO 3689,
JIS L1018/L1093,
IWS TM170
Features
G229P pneumatic bursting strength tester uses high efficient micro processing control system , which is easy to use. Besides , it can make the daily laboratory testing work
becomes simple, versatile, flexible, safe and stable.
The G229P can be operated conveniently and visually. The operation is simple and the source of error is eliminated.
Wide range of applications
Through the replacement of accessories,it can be used in a variety of applications,to meet different materials testing requirements.
clamping system and a variety of sizes of the test cup can be selected to meet the different test standards; Configure the test safety cover and lighting system to ensure the
safety of the test and improve the use of comfort.
Bursting strength test for various kinds of textiles, such as woven fabrics, knitted fabrics,hollow lace fabrics, etc.
Color LCD touch control screen, double key to start testing and foot switch control mode optional,so it is easy to use, safe and reliable.
Bursting strength test for Paper, non-woven materials and film materials.
Simple and easy operation of the instrument control and data analysis software,the instrument built-in test software can achieve real-time test data display, easy operation,
data storage and view,data analysis and printing.
R & D department product performance verification, manufacturer product quality control,testing organizations and quality supervision departments of product sampling and
quality assessment.
Technical Parameters
Measuring range:0-1500kPa
Specimen Clamping:pneumatic
Max distension height up to 70mm±1%
Pressure rate:1-100kPa/min, adjustable
Output mode:display and print for output, real-time graphic, online communication;
Operating mode:manual or automatic
Test cup clamping area:7.3cm2,7.8cm2、10cm2、50cm2、100cm2
Output multiple indexes :bursting pressure, bursting strength, diaphragm pressure, distension height, burst time
Power Options:220 AC,50Hz
Dimension:480mm×600 mm×805mm
Note:QINSUN always been committed to innovation and improve product performance and functionality, based on the reasons, the product specifications will be changed accordingly. The above without prior notice, the Company reserves the right to amend the final.