---
Steering Colomn Durability Test Stand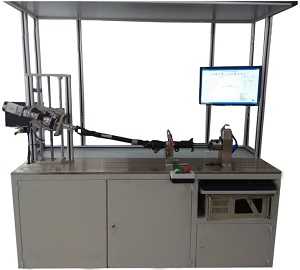 Steering system performance directly affects the handling stability and safety of the steering column assembly which is one of the important components of the car steering system. Its performance, especially the reliability can directly impact on driving safety and handling stability.

Application
The instrument mainly carries on the line and the durability test to the automobile steering column assembly. The testing content: The torsion fatigue life, the rotary fatigue life, the vibration durability, the bending durability, the rotary bending durability, the adjustment mechanism is durable, the spline shaft and the spline sleeve wear wear and steering wheel locking strength durable. The overall design of the durability test bench for automotive steering column assembly is designed for durability testing of steering gears.

Features
◆ The durability of the comprehensive test bench is composed of mechanical modules, power loading module, measurement and control modules and so on.
◆ The mechanical module consists of a mechanical clamping and connection conversion section whose function is to convert a mechanical quantity into another mechanical quantity corresponding to the desired requirement, such as converting the rotary motion into a linear motion.
◆ Power module includes a set of electric rotary drive device by the AC servo motor harmonic reducer flexible coupling and torque sensor direction of the drive shaft and other components of a set of electric rotary loading device, composed of magnetic brake brackets and other four sets of pneumatic linear drive device.
◆ The function of the monitoring and control module is to control the whole system according to the internal information of the system and the external information so that the system can run normally to meet the test requirements.


Note:QINSUN always been committed to innovation and improve product performance and functionality, based on the reasons, the product specifications will be changed accordingly. The above without prior notice, the Company reserves the right to amend the final.