---
Steering Wheel Comprehensive Fatigue Test Bench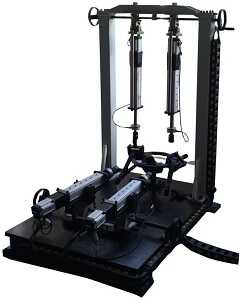 Steering wheel comprehensive fatigue durability test bench is mainly used to test the steering wheel bending and torsional fatigue endurance test, bending fatigue endurance test.
Standards
QHMA 2128-2015 Airbag with steering wheel technical conditions
QHMD 2002-2009 The steering wheel 7.6.1 and 7.6.2 and other main factory standards were used to test the steering wheel's torsional bending and bending fatigue endurance tests under the conditions of alternating loads or sinusoidal load conditions.
Features
◆ The full range of load is not divided.
◆ The load calibration method is simple and easy to operate.
◆ The test data is stored in database. After the test, the test data can be analyzed. The force and displacement value of each point can be shown on the storage curve.
◆ The interface adopts virtual instrument technology, and the test curve is displayed by analog oscilloscope.
◆ The test program can be edited. For example, test force value, test number, test frequency, test displacement protection value, etc. Also, the edited test program can be saved, and subsequent experiments can call the parameters that have been set.
◆ Each load cycle load peak and displacement peak can be recorded, showing load time, displacement - time curve of each load cycle. You can store an entire curve over five periods.
◆ The control system of the servo motor is controlled by the control system. During the test, if it is load control, the test force is the feedback of closed loop control, and the test force can be controlled precisely.
◆ The instrument has the force value of the difference alarm and protection, fracture alarm; Three color alarm lamp alarm;
◆ Waveform setting can satisfy the initial force of zero and zero sine wave load;
◆ The fitting is convenient and meets the requirements of man-machine engineering.
Components
The test bed consists of host, servo electric cylinder, load sensor, measuring control system and operating software.
Technical Parameters
| | |
| --- | --- |
| Items | Parameters |
| Load range | 2000N, measuring range: 40-2000N |
| Load measurement accuracy | ± 1% |
| Load indication resolution | 0.1N |
| Displacement measurement range | 200mm |
| Displacement measurement accuracy | ± 1% · FS |
| Test frequency | (1-4) Hz; test waveform: sine wave |
| Power supply | AC 220V 50Hz 2kw |
| Number of channels | 4 channels |
| Steering wheel diameter range | 370 ± 50mm |
Note:
QINSUN is very in place for textile testing and quality control,we have our own textile testing lab. Our
textile testing equipment
and testing methods are in the leading position in the industry. We have passed the textile testing certification and iso textile testing standards issued by a number of testing,We can provide
textile testing equipment pdf manual
. Sufficient inventory, big discounts, limited time promotion, Order now!