---
Dynamic Loading Machine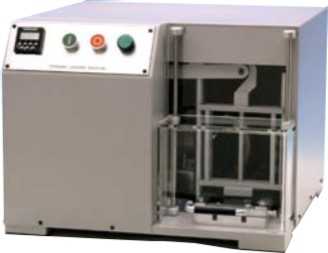 The dynamic loading machine gives information on the thickness loss of textile floor coverings, by simulation two of the main actions of walking: compression and shearing effect at the edge of the shoe according to ISO 2094. The weight has two rectangular steel feet, 51mm by 6.5mm and 9.5mm deep, attached to its underside, 38.1mm apart. By means of a pivoted arm, a cam raises the weight and then allows it to fall freely from a controlled height onto the carpet specimen every five seconds. The steel plate to which the specimen is clamped, is slowly and continuously traversed in such a way that there is 3.2mm movement between each drop of the weight. There is thus a half-overlap by the steel feet at each impact. A complete traverse forward and back is completed after every 25 impacts, producing a uniformly compressed area 50mm wide by 90mm long.

Standards
ISO 2094 Textile floor coverings - Determination of thickness loss under dynamic loading.

Technical Parameters
| | |
| --- | --- |
| Items | Parameters |
| Dimension | 500(W)x 500(D)x 370(H)mm |
| Power consumption | 250W |
| Steel feet weight | 51mmx 6.5mm, 6.5mm thickness |
Features
· Stainless steel structure, paint spray processing, good anti-corrosion, long service life.
· Easy operation. The weight with two rectangular steel feet is repetitively dropped off to impact the floor coverings for periodic dynamic loading test.
· Good stability with minor deviation on test results
· Stainless steel plate to which the specimen is clamped.

Note:QINSUN always been committed to innovation and improve product performance and functionality, based on the reasons, the product specifications will be changed accordingly. The above without prior notice, the Company reserves the right to amend the final.