---
Tearing Strength test instrument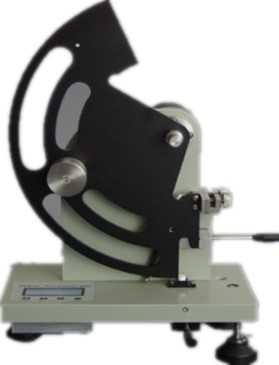 Introduction
Lift the pendulum up to a certain height to give it an initial potential energy. The pendulum tears the specimen while swinging down. The electronic test system calculates the reduced energy caused by tearing to obtain the required force for tearing.
Application
Textiles, Plastic film and aluminum plastic composite films, Paper and paperboard.
Standards
Textile: GBT3917.1, ASTM D1424, DIN 53862, EN ISO 13937-1, ISO4674-2,ISO 9290, M&SP29, NEXT 17, NFG 07-149
Plastic: ASTM D1922, GB/T11999, ISO6383-2, JISK7128-2, NFT54141
Nonwoven: ASTM D5734, WSP100.1
Paper: APPITAP400, ASTM D689, BS4468, CSAD9, DIN53128, EN21974, GB/T455, ISO1974, JISP8116, PAPTACD9, SCANP11,SNV198482, TAPPIT414, UN1644

Accessories
Standard configuration: Host one, Standard pendulum weights (A-D) and calibration weights,LABTest PC software
Optional accessories: Pendulum weight E and calibration weight
Features
◆ Automatic pendulum weight detection, automatic zeroing
◆ Based on the standard fan pendulum structure and high precision photoelectric coding sensor, the test results are accurate.
◆ Low-power design. You can use the computer USB port power supply, and you can also use the phone charger power supply.
◆ Large range of design. Select E pendulum which can be tested to 128N.
◆ Two fixture gap 2.5 ~ 3.5 continuously adjustable. Blade position is adjustable to meet a variety of standards.
◆ With a digital adjustment of the display backlight system.
◆ Test results can be transferred to the computer through the USB port. Make the statistics and make the perfect test report ,which can also be saved as EXCEL format.
Note:QINSUN always been committed to innovation and improve product performance and functionality, based on the reasons, the product specifications will be changed accordingly. The above without prior notice, the Company reserves the right to amend the final.