---
Physical performance tester for Building windows and doors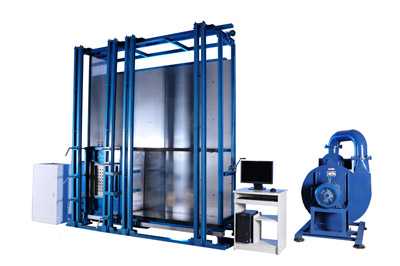 Physical performance tester for Building windows and doors Mainly used to detect the construction of the window of the wind pressure, air tightness and watertight performance, applicable to tertiary institutions, scientific research units, manufacturers, the use of units and related testing units.
physical performance tester for Building windows and doors Standards compliant:
GB / T7106-2008 "Building exterior window airtight, watertight, wind pressure performance classification and its detection method"
The physical performance tester for Building windows and doors Standards main parameters:
1. With power: AC ~ 380V, 50HZ
2. Wind pressure measurement range (wind pressure resistance): small range of -600 Pa ~ +600 Pa; a large range of -6000 Pa ~ +6,000 Pa.
3. Air flow measurement range (air tightness): (0 ~ 500) m3 / h
4. Spraying range (watertight): (100 ~ 1000) L / h
5. Watertight test Drainage: Stable pressure - 2L (m2 * min); Fluctuation pressure - 3L (m2 * min)
6. Displacement test range (deformation detection): (0 ~ 70) mm
7. Pressure transmitter accuracy: Wind pressure: 0.25; Air tightness: 0.5; Watertight: 0.25 level
8. Air flowmeter accuracy: 3.0 level
9. Displacement meter accuracy: 0.25 Resolution: 0.01mm
10. System power: 12KW
11. Laboratory temperature: (23 ± 2) ° C;
12. Laboratory humidity: (40-60%) RH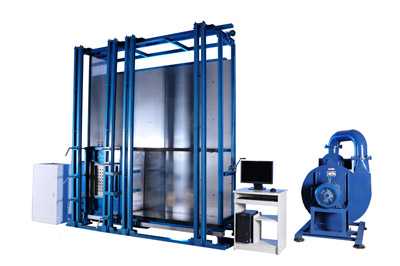 main feature:
1. The latest material of stainless steel as the motherboard, nozzle placement automatically hidden, no need to adjust;
2. The clamping method to further improve, so that the product has a beautiful appearance, compact structure, easy operation and many other advantages;
3. The specimen is installed smoothly: the use of hand shaft control test frame movements, does not produce tilt and deformation;
4. Control core: the use of imported Omron PLC and temperature expansion module to reduce interference, increase stability;
5. Fan system: the use of fans and frequency converter to control the size of the wind pressure to achieve the energy-saving wind pressure control system;
6. Air flow test system: the use of bypass small diameter pipe and import wind speed sensor, the test accuracy and repeatability greatly improved;
7. The software interface is friendly, the operation is convenient, may realize the complete automatic control.


Note:QINSUN always been committed to innovation and improve product performance and functionality, based on the reasons, the product specifications will be changed accordingly. The above without prior notice, the Company reserves the right to amend the final.