---
Mask BFE Testing Machine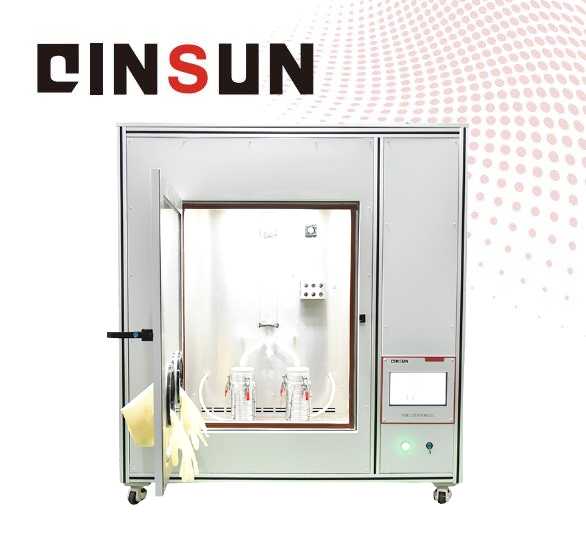 Mask BFE Testing Machine is used to test the percentage of material containing bacterial suspended particles at a specific flow rate.
Features:
1. Mask BFE Testing Machine: negative pressure test system, can protect the safety of the operator.
2. Peristaltic pump built in the negative pressure cabinet, A, B channel 28.3L/min.
3. The flow rate of the peristaltic pump can be set.
4. BFE Tester atomization effect is good.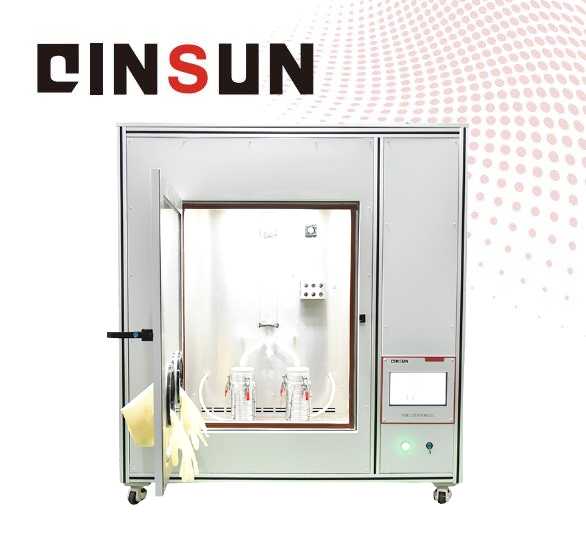 Mask BFE Testing Machine
test principle:
Bacterial filtration efficiency Tester consists of aerosol generation system, aerosol chamber and aerosol transmission device, negative pressure cabinet, 28.3 l/min carbon sampler and other components.The entire detector is controlled by the console.The console adopts microcomputer control system to coordinate and control the work of aerosol generating system, transmission system, negative pressure cabinet and sampling system, and display the working status in real time.The entire measurement work is done automatically.
ASTM F2100 standard specification for performance of materials used in medical face masks

EN 14683 standard that medical face masks in Europe are required to comply with

ASTM F2101 standard test method for evaluating bacterial filtration efficiency (BFE) of medical mask materials using Staphylococcus aureus biological aerosol

YY0469-2011 Technical requirements for surgical mask

YY/T 0969-2013 Single-

use medical face mask
Video Description:
https://youtu.be/i0EM6Zr9hxk
| | |
| --- | --- |
| Sampling flow:A, B channel 28.3L/min | Test tube:16mm*150mm |
| Time delivery of bacterial suspension to spray: Set range 0-10min, default 1min | Operate/sample time: Rang 0-10min, default 2min |
| Median mass dia of bacterial aerosol generator:Average partical dia(3.0±0.3)μm deviation≤1.5 | Peristaltic pump flow rate : 0.006-3ml/min |
| Glass aerosol chamber: 60cm*8.5cm*3cm(thick) | Cell particle sampler: 6 stage Anderson,I>7μm, II(4.7~7)μm, III(3.3~4.7)μm, IV(2.1~3.3)μm, V(1.1~2.1)μm, VI(0.6~1.1)μm |
| Test tube:16mm*150mm | Aerosol chamber pressure: Negative 90~120Pa |
| Resolution 0.1Pa, error ±2% | Spray flow:8-10L/min |
| Cabinet pressure: Negative 50~200 Pa | Automatically clean time:1min |
| Power:220V 50Hz | Dimension(LxWxH):150cm×80cm×170cm |
Characteristics of G299
Mask BFE Testing Machine
:
1. Intelligent touch screen control panel
more efficient and reliable, programmable 10 inch color
LCD touch, achieve control, data display and other functions
Two samplers simultaneously sampling, avoid the test error
by intermediate link, improve the accuracy of test
3. Multi directional protection design
Equipped with current overload protection, leakage protection
and negative pressure cabinet to ensure safety for operator
4. Stability customized parameters
Adopts imported accessories, features stable movements,
accurate test data and good repeatability
Applications of bacterial filtration efficiency tester:
Mask BFE Testing Machine is used to detect the filtration efficiency of masks, and also can be used for measurement and calibration departments, scientific research institutions, mask production enterprises and other relevant departments.
Note:QINSUN always been committed to innovation and improve product performance and functionality, based on the reasons, the product specifications will be changed accordingly. The above without prior notice, the Company reserves the right to amend the final.